About 30 years ago, Tom started playing with the idea of deer processing, keeping a couple of goals in mind. He wanted to make a large variety of specialty venison products produced in a clean facility. As an avid sportsman, he was tired of how poorly his venison was processed and the lack of cleanliness he observed in the various "processing plants" that he tried. He also wanted more than just "hamburger and cube steak." Campbell's Custom Deer Processing was born!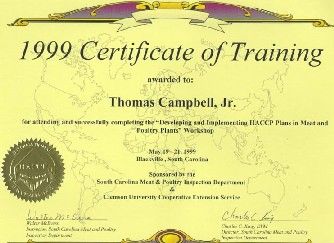 To fulfill these goals, Tom knew that he must learn all he could about the meat industry. He took and completed the H.A.C.C.P. certification course and received his certificate. H.A.C.C.P. is a management tool designed to control food safety and prevent health hazards. It is used in conventional meat plants nationwide. He also attended and continues to attend periodic seminars at Clemson in order to keep up with important developments in the ever changing meat industry. Another avenue that keeps him informed is the various national industry periodicals that arrive at our office monthly.
Throughout the years, Campbell's Custom Deer Processing has been recognized locally and nationally for their accomplishments in the deer processing industry. We try to provide the largest selection of venison products with our customer's safety being first and foremost in all we do. Making the best products in the safest way possible is an ongoing process. However, this would not even be important without the support our customers from coast to coast who come back year after year. To them we want to say, THANK YOU and offer our continuing pledge to honor our original commitment to you!